APC – Friends of Jesus Good Shepherd Renewal
Provincia Filippine - Australia - Saipan - Taiwan
Inserita il: 01/09/2019
1 commentario(i) ...
Lingayen, Pangasinan, Philippines
T
he Association of Pauline Cooperators (APC) – Friends of Jesus Good Shepherd, celebrated the first Renewal of their Promise on August 18, 2019 during the Eucharistic Celebration held at the Chapel of Jesus Good Shepherd Development Center.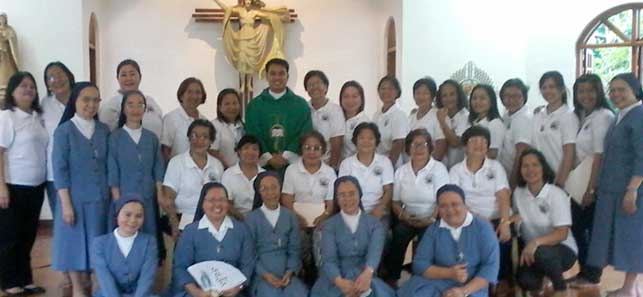 T
he Group was spiritually and meaningfully prepared for the occasion during the conference given by Sr. Ma. Veronica Gungon in the morning on the topic of "Fellowship". She opened the session by challenging them with the question, "Where are you now as APC's?", focusing on the three aspects of "fellowship", namely: 'kasama' (companion), 'pakikisama' (sense of belonging) and 'samahan' (relationship). Deepened by the Scriptural texts cited, it was followed by the small group sharing on its application to their life as Pauline Cooperators after some moments of silence.
P
rior to the fellowship at the Table of the Lord, the Group also had an Hour of Eucharistic Adoration followed by the meditative recitation of the five joyful mysteries of the Holy Rosary especially offered for the Bishops and Priests unjustly facing sedition charges by the present Philippine Government.
T
he APC Day of Promise and Renewal was highlighted by the Eucharistic Celebration presided by Rev. Fr. Napoleon Molano III, from the Diocese of Alaminos, Pangasinan. Out of the nineteen (19) members who made their Promise last year, only eighteen (18) of them made the renewal because one (1) is out of the country. Three (3) new cooperators who have attended the series of formation with the first batch were added after they took their Promise in the presence of Sr. Veronica Gungon, APC Provincial Coordinator, Sr. Teresita Sosa, Lingayen Community APC In-charge, and Sr. Lily Ann delos Santos, Community Animator, who accepted the new cooperators in behalf of Sr. Arsenia Estrada, Provincial Superior.
C
hallenged by the reality of injustices and suffering humanity around us particularly in our own country today, on the second year of their journey as Pauline Cooperators, each member chose a Pauline Saint whose exemplary life of prayer and virtues she desires to emulate as "faithful witness of Christ" to counteract the evil of the here and now".
Through the intercession of our Blessed Founder, James Alberione,
let us pray for one another for this grace.
Ms. Myrna A. Reyes (for the APC of Lingayen)
Leggi i commenti
Sr. Ignacia Coching
30/09/2019 | 09:40
What a beautiful and an edifying project of life as Pauline Cooperators- responding to the call to Holiness! Thank you sisters and friends. May God bless us as we pray for one another.